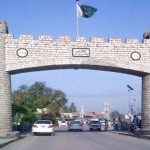 ISLAMABAD: Prime Minister Muhammad Nawaz Sharif chaired a high-level meeting in Islamabad on Wednesday to review power and petroleum supply situation during summer months especially during Ramazan.
The Prime Minister directed that all out efforts should be made to ensure smooth supply of petroleum products in all parts of the country particularly during the holy month of Ramazan.
He also directed the Ministry of Water and Power that during Ramazan load-shedding should not exceed the specified limit of six hours in urban and eight hours in rural areas, with no load-shedding allowed at Sehr and Iftar time.