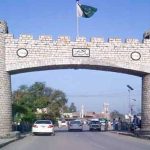 The coalition government has decided to increase the flood cash relief budget for flood victims from Rs28 billion to Rs70 billion in order to cover a large number of affected people, Prime Minister Shehbaz Sharif said, as it tries to send aid to the disaster-stricken areas amid bad roads.
"I request everyone to support people in this difficult time," he told reporters after reviewing the flood situation in Sindh's Qambar Shahdadkot. "We will do politics later."
Floods triggered by heavy rains have severely affected the embankments and dykes in the district. At least 22 people died in the district, a government official told the premier. As many as 59 union councils, seven tehsils, and around 900,000 people have been affected due to the floods.
The premier had taken an aerial view of the flood-hit areas before taking a briefing on the impact. The floodwater from Balochistan in the fourth monsoon spell severely hit the area, the official said, stressing that the water level "was not suitable" for the storage banks.
"Water needs a downward course to drain," he said adding that the storage capacity could not sustain the high pressure of water. Crops of rice and cotton and date trees have been damaged in the province. They demanded of the government and the Water & Power Development Authority to provide additional support
"Still floodwater is there. Water is everywhere. I don't think Pakistan or Sindh had ever seen such a calamity ever before due to torrential rains or hill torrents," PM Shehbaz said, adding that such devastation was more than the impact of the 2010 floods in Sindh.
He described the efforts as "hands-on", however, said that resources were limited as compared to the unlimited problems. The federal government in coordination with the provincial government was fighting the calamity.
The federal government was providing Rs25,000 per family in flood-hit areas under the Benazir Income Support Programme. "No one knew the spread of water," he said.
It was also planning the grant for provinces in coordination with the National Disaster Management Authority.
"Unexpected and unimagined disaster was never seen by anyone," PM Shehbaz said while explaining the scale of the calamity.
The premier would preside over the first meeting of the flood relief coordination committee to review the progress on relief work. He lauded foreign countries and international donors for their financial assistance and resources for the country.