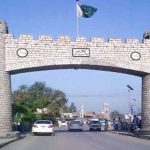 ISLAMABAD: Prime Minister Shahbaz Sharif has stated that the miscreants of the Tehreek-e-Insaf (PTI) will not be granted any amnesty for their actions on May 9.
While addressing the Martyrs Convention at Jinnah Convention Center, he said, "even if I recommend, no criminal will be spared, and no innocent will be punished. The martyrs are our heroes, and their tribute will not be undermined."
The Prime Minister expressed his pride in addressing this convention, saying that they have gathered today to pay homage to the martyrs who sacrificed their lives for the soil of Pakistan and its defense. "We can never forget our martyrs. They are our national assets and heroes."
Shahbaz Sharif stated that the armed forces of Pakistan, law enforcement agencies, police, security agencies, and the youth have sacrificed for this country. The country has achieved peace and stability due to the sacrifices of more than 86,000 individuals, but what happened on May 9 cannot be forgotten. It will always be remembered as a black day.
The Prime Minister emphasized that the miscreants of the PTI and its leader Imran Khan have orchestrated a planned campaign to incite people. The mastermind behind this was Imran Khan himself, and he cannot disassociate himself from it.
He stated that no political party can attack the state when someone is arrested. When this government came into power, it did not cause any harm to the entire opposition.
Shahbaz Sharif said that in past arrests were made, people were sent to jail, but there was no destruction. The state and defense institutions were not harmed. Zulfikar Ali Bhutto was hanged, Benazir Bhutto was martyred, and Nawaz Sharif was exiled, but no political party caused harm to its country or its flag.
The Prime Minister said that on the day Imran Khan was arrested, riots brok eout, and his miscreants attacked defense and military installations. "Those who are being brought to justice through the legal process will not be granted any amnesty."
He further stated that this is an unforgivable crime and an attack on the state. "The state is not weak. The images of martyrs and memorials have been disrespected. We should think about what the heirs and families of these martyrs must be going through."
The Prime Minister made it clear that no wrongdoer will escape, and no innocent person will be apprehended. Strict action will be taken against such individuals under the law so that no one dares to do such things in the future.
He said we tolerated all allegations levelled by Imran Khan on government, institutions and political leadership but attacking, burning and disrespecting memorials of Shuhada and Ghaziz will not be tolerated at any level.
On this occasion, federal ministers Amin ul Haque and Sheri Rahman also addressed. The event was attended by families of Shuhada, Students from different schools and people belonging to different walks of life.