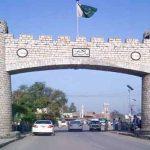 ISLAMABAD: Defence Minister Khwaja Asif says appointing the new army chief is a prerogative of the prime minister and he will decide it accordingly.
Asif said Prime Minister Nawaz Sharif will hold consultations for appointment of General Raheel Sharif's successor.
The defence minister said Gen Sharif will forward dossiers of the top contenders of the coveted slot.
Asif hailed Pakistan Army and said the forces achieved many success under General Raheel Sharif.
The outgoing army chief is immensely popular among ordinary Pakistanis, who see him as a bulwark against crime, corruption and militant violence.\
According to reports, the prime minister's favourite, the aides said, was Lieutenant General Javed Iqbal Ramday, commander of XXXI Corps who led a 2009 operation to drive the Pakistani Taliban militant movement from Swat Valley near the Afghan border.
The three other dossiers are for Lieutenant General Zubair Hayat, Chief of General Staff, Lieutenant General Ishfaq Nadeem Ahmad, commanding officer in the eastern city of Multan, and Lieutenant General Qamar Javed Bajwa, who heads the army's Training and Evaluation Wing.