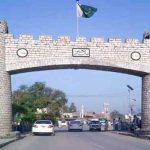 Federal Defence Minister Khawaja Asif said Wednesday that the process of appointing the new army chief would be started by month-end.
Addressing a press conference in Islamabad, he said that five senior officers were shortlisted for the appointment of the new army chief, adding that the new army chief could be chosen from any of those officers.
"All names are sent by the General Headquarters (GHQ), and all these names are all thoroughly reviewed," he added.
"A cipher is a state secret. Such confidential matters should not be made public. Imran Khan has also violated the Official Secrets Act," he stated.
"This person will surely be held accountable. He dares government to arrest him. He will come to his senses the day he goes to jail," he added.
He also said that lust for power had turned Imran Khan mad, adding that Imran Khan's mental state was not stable.
"Imran Khan should be ashamed of himself after audio leaks that have exposed his narrative of foreign conspiracy," he stated.