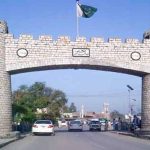 ISLAMABAD: Prime Minister Nawaz Sharif will host a farewell dinner in honour of outgoing Chief of the Army Staff (COAS), General Raheel Sharif today (Thursday) at the Prime Minister House.
The premier would hold a one-on-one meeting with the outgoing army chief to discuss the appointment of the new leader of the military.
The army chief is to retire on November 29 after his three-year tenure as the Chief of the Army Staff. General Sharif is making farewell visits to different cantonments and installations that started this Monday.