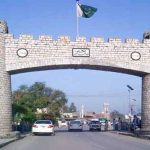 BOAO: Prime Minister Shahid Khaqan Abbasi has emphasized that the good office of the United Nations Secretary General must play its part in highlighting Indian atrocities being inflicted upon Kashmiris in the Indian Occupied Kashmir.
He was talking to United Nations Secretary General, Mr. Antonio Guterres on the sidelines of Boao Forum for Asia on Tuesday.
The Prime Minister apprised that deliberate and unprovoked ceasefire violations by India along the Line of Control and the Working Boundary are moving towards a dangerous escalation resulting in Shahadat (martyrdom) of innocent civilians.