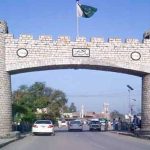 ISLAMABAD: Pakistan Muslim League-Nawaz (PML-N) President Muhammad Shehbaz Sharif will launch election campaign with a gathering in Karachi today.
Shahbaz Sharif has already arrived in an economic hub of the country and attending various functions in the city.
Shehbaz Sharif, the former chief minister Punjab, in a message has given credit of Karachi operation and restoration of peace in the city to his brother Nawaz Sharif, the former prime minister and supreme leader of PML-N.
He added that PML-N had honored its promises made with the people of Karachi and claimed that it was his party, which eliminated power outage from the country.
Meanwhile, PML-N leader and former Prime Minister Shahid Khaqan Abbasi has said his party put the country on path of development and progress.
Addressing a public rally in Kallar Syedan area of Rawalpindi, he said PML-N believes in politics of service and nobility.
Shahid Khaqan Abbasi said the previous PML-N government restored peace in Karachi and Balochistan and revamped economy of the country.