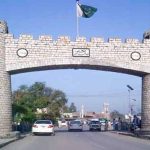 MURREE: Pakistan Muslim League-Nawaz (PML-N) leader and candidate from NA-57 Shahid Khaqan Abbasi says their party has always promoted politics of principles and decency and made sincere efforts to develop the country.
Khaqan Abbasi expressed these views while inaugurating election office in Murree alongwith another candidate of the party from PP-6 Raja Ashfaq Sarwar.
Shahid Khaqan Abbasi said people are witnessing the development projects launched by PML-N government during its tenure and they will cast their votes in favour of the party.