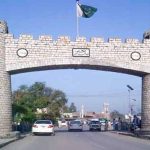 ISLAMABAD: Criticizing Pakistan Muslim League-Nawaz (PML-N), leader of the opposition in the National Assembly Syed Khursheed Shah said that a law was amended only to make one person president of the party.
Speaking to media in his chambers, Shah also criticized Muttahida Quami Movement (MQM)-Pakistan and Pakistan Tehreek-e-Insaf (PTI) and said that an investigation should be done regarding the role of the two parties in relation to the passing of the bill from the Senate.
Shah said that despite contacting the PTI thrice, it didn't suggest the name for the post of Chairman National Accountability Bureau.
"If they don't suggest a name, I cannot keep on waiting," he said.
The Opposition leader said that the selection of the Chairman NAB will be done before October 8, adding that he would meet Prime Minister Shahid Khaqan Abbasi today in this regard.