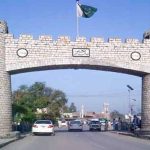 ISLAMABAD: Expressing grave concerns over the North Waziristan incident, PML-N Parliamentary leaders Khawaja Asif urged the government to mainstream the tribal districts and resolve the crisis politically.
Addressing in National Assembly, Khawaja Asif urged Defence Minister Pervez Khattak, Interior Minister and Prime Minister Imran Khan to take immediate steps to defuse the tension. He said that these issues needed to be resolved proactively otherwise the situation would result into severe consequences. He said that Pakistan Army and tribal people had rendered matchless sacrifices in war against terror.
Khawaja Asif urged government to address the protesting group's grievances.
Khawaja Asif Speaker Asad Qaiser to constitute a parliamentary committee to probe the controversy that was caused by some leaked audio and video clips involving National Accountability Bureau (NAB) chairman retired Justice Javed Iqbal.
Speaking in the parliament, Asif questioned the government's role in "trapping" the NAB chairman to "save its own people".
Asif said that most of the people facing NAB cases are in the opposition and pointed out that references against members of treasury benches are also pending.
"Government has become alert so a trap was set against NAB chairman. Jahangir Tareen has shares in the channel that broke the news [of the leaked tapes]," he insisted.
"Someone has said this rightly, time changes. Power has a shelf life. Trust me when I say this, I have been on both sides of the house."
"We have been in power as well and we [too] and thought the time would never end. I want to say this as a reminder: power has no shelf live," he repeated.
When Federal Minister for Communication and Postal Services Murad Saeed took the floor to respond Khawaja Asif's allegations, the opposition political parties staged walk out from the house.