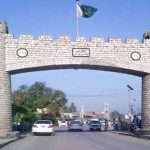 LODHRAN: Pakistan Tehreek-e-Insaf (PTI) secretary general Jahangir Tareen has said that ruling Pakistan Muslim League-Nawaz (PML-N) begged stay order to run from NA-154 by poll.
Addressing a press conference, Tareen said that PML-N run way from the people's court in Lodhran and begged stay order from Supreme Court.
However, he said the PTI would contest against the "fake lions" in the battlefield. Tareen said that the party would keep vigilant eye on votes on October 11 to limit rigging chances.
He also said that the party would participate in local body (LB) elections.
While talking about Chief of Army Staff (COAS) General Raheel Sharif's extension in tenure, he said that the party would voice its stance after deliberation over the matter.