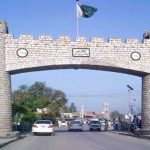 ISLAMABAD: Pakistan Muslim League-Nawaz (PML-N) has decided to protest against the increase in petroleum prices in parliament.
According to details, PML-N President Shehbaz Sharif directed senior party leader Khawaja Asif to contact opposition parties and stage a strong protest against 33 percent hike – highest in Pakistan's history – in petroleum prices.
It has been learnt that all opposition parties will hold demonstration and demand the government to withdraw its decision. The opposition has decided to expose petrol mafia after sugar and highlight public problems and expectations in parliament.
Let it be known that the federal government on Friday announced to increase the prices of petroleum products with immediate effect.
According to statement issued by the Finance Division, the Government decided to revise the existing prices of petroleum products in view of the rising oil prices trend in the global market.
The price of petrol has been increased by Rs25.58 to Rs100.10 per litre, while price of High Speed Diesel (HSD) has been increased by Rs21.13 to Rs101.46 per litre.
On the other hand, the price of Light Diesel Oil (LDO) has been increased by Rs17.84 to Rs55.98 per litre and the price of Superior Kerosene Oil (SKO), has been increased by Rs23.50 to Rs59.06 per litre.