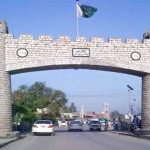 SIALKOT: Prime Minister Shahid Khaqan Abbassi has inaugurated an international terminal of Sialkot airport on Monday.
Speaking on the occasion, the Prime Minister described the terminal as a milestone saying it would prove to be productive for the country.
He also said that the Chairman National Highway Authority (NHA) had given him a detailed briefing on the road infrastructure projects in the area.
Abbasi said that two hundred billion rupees that were being spent on different projects in Sialkot would change the fate of entire area.
Shahid Khaqan Abbassi said that it was the first government which not only conceived projects but also completed them.
He said that they have completed power projects of ten thousand megawatts, which were executed keeping in view the future requirements of the country.
The Prime Minister also praised the business community of Sialkot.
Interior Minister Ahsan Iqbal and Aviation Adviser Sardar Mehtab Abbasi were also present alongside the premier.
Foreign Minister Khawaja Asif, who belongs to Sialkot, received the prime minister on his arrival.