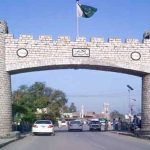 ISLAMABAD: Pakistan Tehreek-e-Insaf (PTI) leader Asad Umar said on Monday that Pakistan's economy is under pressure due to the flawed policies of previous Pakistan Muslim League-Nawaz government.
Speaking to media at Darbar-Aaliya Morha Sharif, he said that it seems former prime minister Nawaz Sharif will call for boycott a week before polls. He said that if given chance in the coming election, PTI would resolve water crisis in Islamabad on urgent basis.
The PTI leader said that his party won't struck any deal with the Pakistan Peoples Party to come into the corridors of power.
"The way things are going it looks like Almighty Allah wants to take an important task from Imran Khan," he added.
During his visit, Umar requested shrine's caretaker to do special prayers for his win in the forthcoming election.