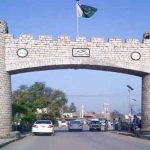 LAHORE: Leader of the Opposition in National Assembly, Syed Khurshid Shah has said on Tuesday that the people were lied to by the government for its interest and power.
Khurshid Shah addressed the last day ceremony of Pakistan People's Party's (PPP) foundation day in Bilawal House today.
In his address, he said that the government of Pakistan Muslim League-Nawaz (PML-N) lied to the nation and gave them false hopes to serve their interests. He rhetorically asked the premier and Chief Minister (CM) of Punjab, Shehbaz Sharif about their promises of ending power outages within six months.
He also demanded the government to report progress made in 'Sasti Roti Scheme.
On the occasion, Leader of the Opposition in Senate, Aitzaz Ahsan said that the leaders develop terms with foreign families for personal gains. The senator demanded that the premier be treated no differently than how former PM Yousaf Raza Gilani was treated.
Aitzaz Ahsan also raised slogans against the government in the gathering.