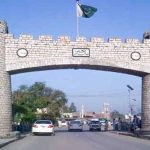 PHOOL NAGAR: Prime Minister Muhammad Nawaz Sharif has said the PML-N government will complete its constitutional term, and will also win the next elections on the basis of its performance.
Addressing a public gathering in Phool Nagar this afternoon, he said he is not a person to be influenced or scared by the tactics of the political opponents.
Nawaz Sharif said the government is implementing mega development projects in infrastructure, energy, health and many other fields across the country for equal development.
He said the menace of terrorism is near to be eliminated; power outages have been considerably reduced; and a network roads and motorways is being laid across the country.
The Prime Minister said today's Pakistan is much better than that of 2013, and in 2018, it will further improve in all respects. He said in 2018, not only power outages will end, but electricity will also be cheaper though electricity rate has already been brought down from eighteen rupees per unit to ten rupees per unit.
Nawaz Sharif said any previous government did not launch the projects being implemented by the current PML-N government, and the Lahore-Peshawar Motorway, which could not be further extended, will be taken to Karachi again by the PML-N government.
He said the China-Pakistan Economic Corridor (CPEC) projects are being implemented in all the regions of the country, and the prosperity to be brought by them will continue benefiting the nation for centuries to come. He said the world has acknowledged that Pakistan has been growing at a fast pace.
Nawaz Sharif said his political opponents who fear of their political future want to halt the process, but this national agenda of development will be accomplished at all costs.
The Prime Minister announced one billion rupees for gas supply projects and another one billion rupees for schools, hospitals, bridges, and clean drinking water schemes in NA-142. While in NA-141, he announced five hundred million rupees for gas supply, another five hundred million rupees for schools, hospitals, and clean drinking water schemes, and three hundred million rupees for Lift Irrigation Scheme. He also announced highway to link Phool Nagar with Motorway and a technical college for the area.