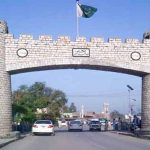 ISLAMABAD: A lawmaker of the ruling Pakistan Muslim League-Nawaz (PML-N), MNA Raza Muhammad Afzal on Thursday demanded immediate action against co-founder of Lashkar-e-Taiba and the chief of Jama'at-ud-Da'wah.
The demand was made during the National Assembly standing committee on foreign affairs. Rana Afzal strongly criticized Pakistan's foreign policy and said that the foreign policy is a failure as yet today we are unable to eliminate elements like Hafiz Saeed.
Rana Afzal said that India has created such a perception of the world community regarding Hafiz Saeed that the world consider Hafiz Saeed as the main reason for the hostile relations between Pakistan and India. He said that such obstacles must be eliminated because of whom world is trying to isolate Pakistan at global level.
While briefing the committee, foreign secretary Aizaz Chaudhry informed the committee that dossiers about the Indian spy Kulbushan Yadav's arrest and Indian involvement to destabilize Pakistan has been prepared. He said that the dossiers will soon be sent to countries around the world.