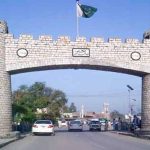 LAHORE: PML-N leader in the Punjab Assembly Hamza Shehbaz said on Sunday that his party members took oath as member of provincial assembly for the continuity of democracy.
Talking to the media outside the provincial assembly, he said the PML-N was following democratic norms but it would not allow, what he called, rigging based people to run the government.
He demanded to constitute a parliamentary commission to probe the alleged rigging in general election 2018.
He termed it a healthy sign for the country that a democratic government was being formed for third time consecutively.
Hamza said the political workers and leaders rendered sacrifices for the democracy throughout the world.
To a question, he said that they were wearing black bands and added the PML-N would protest on roads as well as in the house.
He claimed that services of Shehbaz Sharif for the nation were matchless and exemplary.