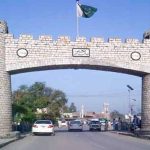 PESHAWAR: Pakistan Muslim League-Nawaz (PML-N) has submitted adjournment motion against Khyber Pakhtunkhwa Assembly Speaker Asad Qaiser for his controversial standing over China Pakistan Economic Corridor (CPEC).
PML-N's parliamentary leader in KP Assembly Aurangzeb Nalotha said that the assembly speaker has a controversial standing.
He said that the speaker first took stance against the Centre and then approached the high court over CPEC, hurting the national unity.
The PML-N leader said that the Qaiser had said he would approach court along with leaders of other political parties but there was no other leader accompanying him.
He claimed that apart from the opposition, the disgruntled PTI leaders would support the motion against the speaker.
KP assembly Speaker Asad Qaiser on Monday had submitted a petition regarding China Pakistan Economic Corridor (CPEC) in the Peshawar High Court (PHC). The petition which names the federal government as a party seeks to remove reservations over the CPEC project. Asad Qaiser said he approached the court for the rights of people, adding the CPEC was a project of the entire country.