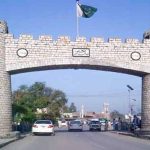 LAHORE: Pakistan Muslim League Nawaz (PML-N) has decided not to give party ticket to its candidates to contest elections against disgruntled party leader Chaudhry Nisar in general elections 2018.
According to media reports, the decision not to field candidate against Nisar has been taken as an option to appease him.
The reports said that PML-N President and former chief minister Punjab Shehbaz Sharif had recommended not to field candidate against Nisar in the upcoming general elections.
However, party's top brass has not yet decided to issue ticket to Ch Nisar. Nisar to contest elections from NA-59 and NA-63.
On the other hand, Nisar while addressing a public rally in Chak Beli Khan area of Rawalpindi has said he didn't need any party's ticket.
Nisar said that he always did politics of principles and would do the same in the future adding that he had never bowed down before anyone for party's ticket.