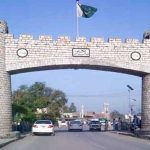 ISLAMABAD: Prime Minister of Pakistan Shahid Khaqan Abbasi has linked the issue of granting party ticket to the decision of the parliamentary board of Pakistan Muslim League (Nawaz).
In reference to granting party ticket to the latest dissident, Ch Nisar, PM Abbasi said that no one person takes that decision, rather there is a board who makes this decision in consultation with party leaders.
Ch Nisar fell from favor with most of Nawaz loyalists in the party after he advised the former PM not to clash with institutions and accept the court's decision in Panama case.