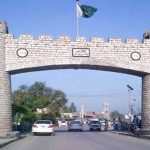 KARACHI: The ruling party Pakistan Muslim League-Nawaz (PML-N) has reached an agreement with Muttahida Qaumi Movement-Pakistan (MQM-P) and Pakistan Muslim League-Functional (ML-F) for securing seats in the Senate elections in Sindh.
Talking to media here in Karachi, the former provincial chief minister and PML-N leader Arbab Ghulam Rahim claimed that a deal has been struck between his party and the major opposition parties in the province.
He said his party's MPAs in Sindh Assembly would be supporting the candidates of PML-F for general seats and MQM-P for technocrat seats of the Senate.
On the occasion, he said "unwritten pacts" have been made among the opposition parties.