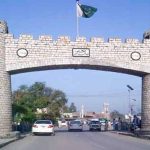 KARACHI: Former Chief Minister of Punjab and Pakistan Muslim League-Nawaz (PML-N) President Shehbaz Sharif on Monday promised that he would develop Karachi if voted to power in the next general elections.
Addressing a gathering here in Karachi on Monday, he said that sit- ins (staged by Pakistan Tehreek-e-Insaf) caused huge loss to the country.
Shehbaz Sharif said that PML-N had resolved the issue of load shedding by 90%.
Former Punjab CM maintained that peace was restored in Karachi by virtue of sacrifices by the Rangers.
It is pertinent to mention here that Shehbaz Sharif has arrived in Karachi today to kick-off his election campaign for general elections 2018.