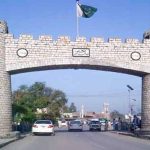 FAISALABAD: Pakistan Muslim League-Nawaz suffered another upset defeat in NA-108 constituency Faisalabad as its candidate Abid Sher Ali lost elections.
Media reports while quoting unofficial and incomplete results suggested that Abid Sher Ali lost the race to Pakistan Tehreek-e-Insaf (PTI) candidate Farrukh Habib.
The results showed that PTI's Farrukh Habib stood first while securing 112, 740 votes while PML-N's Abid Sher Ali secured 111, 529 votes.
Abid Sher Ali has served as the Minister of State for Water and Power in the previous federal government led by PML-N.