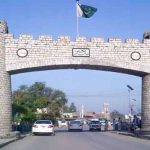 LAHORE: As many as three Pakistan Muslim League-Nawaz (PML-N) Members of Provincial Assembly (MPA) have officially resigned following the Khatm-e-Nabuwwat conference in Faisalabad.
Nizam-ud-Din Sialvi, Moulana Rehmat Ali and Mohammad Khan Baloch had announced to resign from their posts during Faisalabad rally and have sent their resignations to assembly secretariat.
Pir Hameed Sialvi's representative Mohammad Nawaz presented the resignations in the secretariat.
Nizam-ud-Din Sialvi was PML-N MPA from Sargodha while Moulana Rehmat Ali and Mohammad Khan Baloch were elected from Jhang.
Earlier on Monday, speaker of the Punjab Assembly Rana Muhammad Iqbal said that he had not received any resignation or information from any of the members regarding their resignations.
He said unless members of the Punjab Assembly submit and verify their resignations before him in person, they shall not be entertained.
Speaker Iqbal added that resignations that were submitted voluntarily shall be forwarded to the Election Commission of Pakistan (ECP) following their acceptance by the speaker for further proceedings.