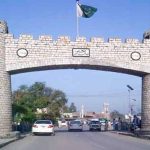 ISLAMABAD: Former Interior Minister Chaudhry Nisar Ali Khan on Monday said that the ruling Pakistan Muslim League-Nawaz (PML-N) has turned into a party for self interests and it is about time that the senior leadership comes out of the state of confusion.
The PML-N stalwart was talking to media on Monday when he criticised his own party yet again. He even took a hit at Prime Minister Shahid Khaqan Abbasi saying he shouldn't have had mentioned the danger of formation of technocratic government. "PM shouldn't have brought up technocratic government. There will be immense loss if elections are delayed," he spoke.
The ex-ministers recalled that he expressed his concerns in party meeting and not out in the public. He confirmed the presence of two groups in PML-N of which one is for reconciliation and the other is for resistance. "There is no divide in the party. There is only difference of opinion," he cleared.
He suggested to conduct damage control after the loss rather than confrontation with the apex court. "Appeal can be filed against the court's decision and one can criticise it, however, confrontation is not recommended," he remarked.
Also, he suggested the ruling party to avoid speeches on Panama case matter and recommended against writing to Supreme Court for the establishment of commission.
Nisar compared the current political scenario with 1970 saying today's conditions are much difficult than that of 1970. "In 1970, there was danger from only one country but today we face trouble from all countries," he said.
He pointed out that the ruling party is paying less attention of foreign policy matters including US policy review for South Asia and Afghanistan under Trump administration. Nisar suggested that the leaders of ruling party should come out of the confused state.
While commenting on inter-institutional relations, he said that the country faces immense danger and so sensitive information provided in civil military briefings should be taken into consideration. He suggested that the party shouldn't think about self interests alone. "Larger interest should be considered while decision making. Elections should take place on time," he stated.