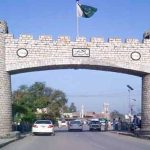 LAHORE: Former chief minister Punjab and PML-N president Shehbaz Sharif said on Saturday that taking a legal discourse, the PML-N will defend Nawaz Sharif and his daughter Maryam Nawaz adding that he will soon give a call for peaceful protest in the country.
Addressing a news conference in Lahore, Shehbaz Sharif said that the trial of terrorists is carried out in jails — in a reference to the sentence given to former prime minister Nawaz Sharif and Maryam Nawaz in Avenfield properties case.
He criticised the measures taken by the caretaker government regarding the arrest of Nawaz and Maryam. "I have heard Nawaz and Maryam's trial will be held in Adiala jail, this is tantamount to disgracing sanctity of justice," said the PML-N president.
The PML-N leader said that in 1999 when former military ruler Pervez Musharraf had made a plane hijacking case against Nawaz, even then the trial was not held in jail.
While referring to the father-daughter duo's arrival on Friday, Shehbaz said that the people came out to welcome their leader Nawaz out of their own accord, adding that the leadership 'had promised a peaceful rally'.
"Police used tear gas and baton-charged our workers in the rally," said Shehbaz.
He said that cases were registered against him and the senior leadership of the party, adding that the clauses pertaining to 'terrorism' were also included in the petition.