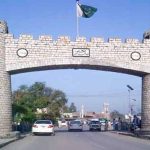 FAISALABAD: The polling process at polling station No. 376 of NA-108 in Faisalabad was halted briefly after Pakistan Muslim League-Nawaz (PML-N) leader Abid Sher Ali confronted with a woman presiding officer.
According to media reports, PML-N leader and former minister of state Abid Sher Ali claimed that woman was barred from casting her vote in the polling station.
However, the woman presiding officer told him that the relevant voter was not registered in that constituency.
Due to the face-off situation between Abid Sher Ali and the woman presiding officer, the polling was halted briefly.
The polling process was resumed after staff members intervened and maintained to normalize the situation.