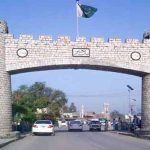 LAHORE: Pakistan Muslim League-Nawaz (PML-N)'s independent candidate Dr Asad Ashraf won from Nehal Hashmi's Senate seat at Punjab Assembly.
Ashraf ran independently due to the Election Commission of Pakistan's (ECP) latest decision to nullify all nomination forms signed by Nawaz Sharif and Pakistan Tehreek-e-Insaf's (PTI) Dr Zarqa Taimur.
Punjab Law Minister Rana Sanaullah was the first to cast his vote while Punjab Chief Minister Shehbaz Sharif also reached the Punjab Assembly to cast his vote.
Earlier, the opposition protested against some ministers who were taking the voters to the polling booth. Polling came to a close at 4pm.
Hashmi's Senate seat became vacant after the Supreme Court rejected his unconditional apology in a contempt of court case and sentenced him to one month jail time.