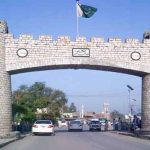 ISLAMABAD: Pakistan Muslim League-Nawaz (PML-N), after the disqualification of Nawaz Sharif as party president, has issued new tickets to party candidates for the upcoming Senate elections.
The tickets were awarded by party's Chairman Raja Zafarul Haq who also visited the Election Commission of Pakistan (ECP) today.
Raja Zafarul Haq along with other party leaders submitted papers of party candidates for the Senate elections to the ECP.
Raja Zafarul Haq said the party chairman or president had the discretion to issue party tickets.
He said consultations were underway to fill the position of party president.
The move came a day after the Supreme Court ruled that a disqualified politician cannot lead a political party, ordering the removal of former prime minister Nawaz Sharif as head of the country's ruling party.