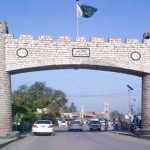 ISLAMABAD: Pakistan Muslim League-Nawaz (PML-N) Thursday nominated Rana Tanveer as Public Accounts Committee (PAC) chairman in place of the party president and opposition leader Shahbaz Sharif.
According to reports, the PML-N also nominated former defence minister Khawaja Asif as parliamentary leader in place of Rana Tanveer.
According to former prime minister Shahid Khaqan Abbasi, Khawaja Asif was made parliamentary leader on the request of Shahbaz Sharif.
Shahbaz Sharif is currently in London where he receiving treatment and is expected to return to Pakistan after May 12.
Moreover, Speaker National Assembly Asad Qaiser has said, he does not have an issue with whoever the opposition appoints as chairman PAC. Talking to newsmen at parliament house, the speaker said that if the opposition parties wanted to replace PAC chairman, then he would take decision according to the rules.