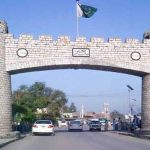 ISLAMABAD: Hussain Nawaz and Hassan Nawaz, the sons of Prime Minister Nawaz Sharif would appear before the six-member Joint Investigation Team constituted to probe money trail of Sharif family, here on Wednesday (today).
Hassan Nawaz arrived in Pakistan from London Tuesday night and he headed to the federal judicial academy from prime minister's house, a short while ago.
This would be the first appearance of the premier's younger son before the investigative team that is currently investigating the murky wheeling and dealing of the first family in the backdrop of Panama case verdict.
Earlier, on Tuesday the premier's elder son Hussain faced a barrage of questions from the Joint Investigation Team for around four hours.
Accompanied by senior lawyers and party leaders, the prime minister's son reached Judicial Academy to appear before the team that is probing alleged offshore wealth of the Sharif family.
Nearly two hours after he reached the Judicial Academy, an ambulance was dispatched to the academy where, according to sources, Hussain Nawaz was given medical treatment after his health deteriorated.
Apart from Hussain Nawaz, President National Bank of Pakistan, Saeed Ahmed also recorded his statement on Tuesday.
Talking to newsmen after a protracted interrogation Hussain expressed that he would reappear before the JIT if summoned.
"I was fasting and responded to all the questions asked," he said.
Hussain Nawaz said that he had provided all the documents that the JIT asked for, adding that he respects the law.
"I can say with conviction that nothing wrong would be proved against me, my father (PM Nawaz) or any sibling", claimed Hussain Nawaz.
When asked about the two members that Hussain earlier objected to, the premier's son stated that the matter should be let to rest.
"If I have any objections in future, I'll appeal to the court," he said.