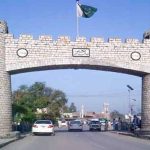 QETTA: Police on Sunday claimed to arrest of 33 suspects and recovery of weapons and computers from their possession during various raids in Quetta's Pashtoonabad area.
A crackdown was launched in Balochistan's provincial capital city in the aftermath of killing of four policemen in the area on Saturday.
A senior police official told DawnNews that 33 suspects had been arrested in various raids so far, who are being interrogated by investiogators regarding the murder of four policemen in the area a day earlier.
Police did not share the identity of arrested suspects prior to completion of interrogation.
An FIR of the incident was also registered against unknown terrorists at Pashtoonabad police station under anti-terrorism act.
Chief Minister Balochistan Dr Malik Baloch had also condemned the incident and directed the police to immediately bring the perpetrators of terror act to book.
"We will not bow down before terrorists," Dr. Baloch said in a statement issued to press after the killing of policemen in Quetta.
Incidents of targeted violence frequently take place in the restive Balochistan province.