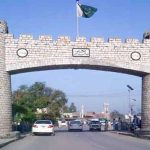 NAROWAL: Police have arrested the assailant who opened fire on the Interior Minister, Ahsan Iqbal during a Pakistan Muslim League Nawaz political rally in Narowal, on Sunday.
Police told that the name of the Assailant was Abid Hussain, 21, who opened fire on the PML-N leader in Narowal.
Iqbal, who belongs to the ruling Pakistan Muslim League (PML-N), suffered a bullet wound in his right arm when an armed attacker opened fire on him in Kanjrur area of Shakargarh, DPO Imran Kishwar told the reporters.
The attacker was immediately nabbed by the security personnel present on the occasion. For further interrogation, the attacker has been shifted to the undisclosed location. Hussain hails from a local village. The attacker used a 30-bore pistol to fire at Iqbal from a distance of around 20 yards, the officer said.
The minister was immediately shifted to a nearby hospital in Narowal, where he is currently being treated.
Punjab Government spokesman Malik Ahmed Khan confirmed Ahsan Iqbal was out of danger.
Punjab Chief Minister and PML-N president Shehbaz Sharif, after a telephonic contact with the minister, sent his special helicopter to airlift Iqbal to Lahore.
The attacker has been identified as Abid Hussain, a 21-year-old man from a Narowal village.
President Mamnoon Hussain and Chief of Army Staff General Qamar Javed Bajwa condemned the attack by lone assassin.
Prime Minister Shahid Khaqan Abbasi ordered the Inspector General of Punjab to "trace the attack planners and submit report in 24 hours".
Security has been beefed at the entry and exit points of the city, with Police and Rangers troops deployed at the minister's house and the District Headquarters Hospital.