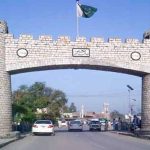 ABBOTTABAD: The police on Friday claimed to have arrested another accused nominated in killing of Afzal Kohistani.
Afzal had revealed that the five women appearing in a controversial Kohistan video were murdered after a jirga decision, in 2012, in Kohistan's Palas valley.
Detailing about the arrest, the police said, Mosam Khan son of Hashim Jan was arrested from Abbottabad on the intelligence based operation.
Yesterday, police had arrested Afzal's nephew, Faiz ur Rehman on a suspicion that he could be behind Afzal's murder.
In support of its claim, the police said that when the murder took place, Rehman was accompanying Afzal and later, the personal, licensed firearm of Afzal was also recovered from Rehman, which gave rise to doubts that he was involved in the murder.
The family of Afzal had, however, dismissed the police version, saying that the police was covering up its negligence after it had turned down Afzal's request to provide him security.
Bin Yasir, Afzal's brother, said that he had sent Rehman with Afzal to accompany him and he didn't believe police stance that he murdered him.
"My three brothers have already been killed by our rivals. We repeatedly voiced our concerns for security but no one did anything for us", he lamented.