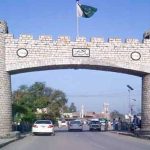 SEHWAN: Police on Monday claimed to have arrested the main accused in the Tania Khaskheli murder case.
Media reports stated the primary accused, Khan Nohani, was arrested after a raid in Dureji area of Balochistan. He was reportedly hiding in the house of a relative of the local MNA.
Last week, Khan, a local landlord of Jhangara Bajara town of Sehwan, along with his associates, allegedly shot dead Tania, a class-10 student, in her house after her family refused to marry off their daughter to Khan.
According to media reports on Saturday, Jamshoro police claimed to have arrested one of his associates, Maula Bux Nohani, during a raid in Sehwan.
After the incident was reported in the media, the local SHO was suspended on the orders of the chief minister for failing to arrest the culprits.
Sindh High Court Chief Justice Ahmed Ali Shaikh also took notice of the incident on Saturday and ordered the police to submit a report in this regard on Tuesday.
Media reports said the victim's father, Ghulam Qadir Khaskheli, was receiving threats for making public the incident.