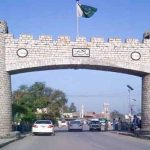 LOWER DIR: Lower Dir Police has arrested the main accused of murder of four members of a family during a Jirga last week.
District Police Officer (DPO) Arif Shahbaz Wazir said a special team was formed headed by Deputy Superintendent of Police (DSP) Farooq Jan which included DSP Saeedur Rehman, DSP Jandol Ajmal Khan, Station House Officer (SHO) Abdul Sattar, Assistant Sub-Inspector (ASI) Wilayat Khan and SHO Munda Mehboob Shah for the arrest of the main accused Siraj Khan.
On August 16, five persons, including four persons from same family, lost their lives and three others sustained injuries in a firing incident during a Jirga in Gosam area of Lower Dir.
A Jirga was going on to settle a dispute when the participants opened fire on each other due to which five people died and another was injured. The deceased were identified as Rehmatullah Jan, his son Hameedullah, and his two sons Riaz and Ismail from one family, while one person from other group, Tariq Jan lost his life and Sher Afzal was injured.
The main accused Siraj Khan escaped after the firing incident. People of Gosam on Wednesday staged a massive protest and blocked Dir-Bajaur-Peshawar Highway against failure of police to arrest the main accused.
The protesters blocked the highway for several hours and chanted slogans for the arrest of the accused. They said their protest will continue till the arrest of the main culprit. The Jamaat-e-Islami (JI) district Ameer Aizazul Mulk and Ziaul Haq of Rah-e-Haq Party addressed the protesters and demanded immediate arrest of the accused.