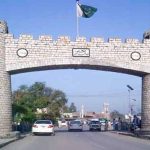 ISLAMABAD: Islamabad Police have arrested a suspect allegedly carrying 2kg of explosive material near Faizabad Interchange where a religious party has been staging a sit-in for nearly two weeks.
Around 2,000 protesters are blocking the interchange, demanding resignation of Law Minister Zahid Hamid for allegedly amending the Khatm-e-Nabuwwat clause in the Election Act 2017.
The man was apprehended while in possession of 492 detonators, 196 dynamite sticks and 300 metres long wires.
The suspect was moved to the Aabpara police station, while bomb disposal squad was sought to dismantle the explosives.
Earlier in the day, Interior Minister Ahsan Iqbal said the government did not want to resort to violence and bloodshed to remove the protesters but said there were conspirators who wanted that to happen.
Such elements, he added, wanted another incident like the Lal Masjid operation or the Model Town tragedy.
The minister reiterated that the Khatm-e-Nabuwwat law, rather than being compromised, had been further strengthened.
Last week, Parliament passed 'The Election (Amendment) Elections Bill 2017', seeking restoration of the Khatm-e-Nabuwat finality of Prophet-hood clause to its original form.