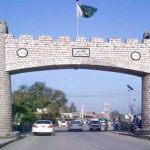 LAHORE: Police and workers of the Pakistan Tehreek-e-Insaf (PTI) clashed Tuesday as a heavy contingent of police reached Zaman Park to arrest former prime minister Imran Khan in the Toshakana case.
The PTI workers clashed with police as they cordoned off Zaman Park and move ahead to arrest Imran Khan. Police are are using mortar shells and water canons to disperse the party's workers while several workers have been taken into custody. According to reports, police are around 90 metres away from his residence.
The police are in Zaman Park in line with court orders as on Monday, a district and sessions court in Islamabad restored the former prime minister's non-bailable arrest warrant in the Toshakhana case, after rejecting his exemption plea. The court has instructed law enforcement agencies to present former prime minister Imran Khan before court on March 18.