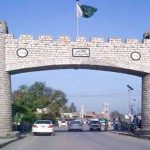 CHINIOT: Police Saturday claimed to have arrested two terrorists and recovered weapons from their possession.
The police conducted an operation near Pull Dengro and arrested two alleged terrorists trying to transport a huge cache of weapons from the tribal areas.
Police stopped the suspects' car laden with weapons, which included 16 pistols, 19 rifles and over 25,000 rounds.
According to the police, the weapons were intended to carry out terrorist activities in the month of Muharram.