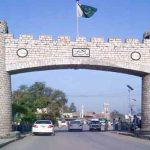 PESHAWAR: Terrorists involved in attack in attack on former Khyber Pakhtunkhwa's chief minister and JUI-F leader Akram Khan Durrani has on Thursday been arrested by Special Police Bannu.
As per details garnered, alleged terrorists identified as Siddique Ullah and Qadar Ayaz were nabbed on a tip-off. Both alleged terrorists belong to Tehreek-e-Taliban Pakistan (TTP) Akhtar Group.
Police revealed that Siddique Ullah came from Afghanistan whereas his facilitator Qadar Ayaz hails from Pakistan.
The terrorists also confessed to carrying out a terrorist attack on another person name Shireen.
On July 13, at least four people were killed and 35 others injured when a bomb targeted the convoy of Muttahida Majlis-e-Amal (MMA) candidate Akram Khan Durrani near the northwestern town of Bannu.
"The bomb was planted in a motorcycle," regional police officer Kareem Khan told foreign news agency. Other local authorities confirmed the attack.
Akram Durrani, the MMA candidate who contested elections on NA-35, was heading towards Bannu to participate in a public rally. He remained unhurt in the incident.