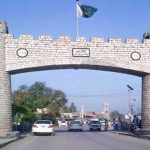 ISLAMABAD: Police on Sunday arrested Dr Shehla Shakeel Sethi for threatening police personnel in federal capital, for not allowing her into a diplomatic enclave on October 17.
According to police details, "Dr Sethi has been shifted to the female police station after arresting from her residence in Chaklala. She will be presented before the duty magistrate today."
Erlier, Minister of State for Interior Shehryar Afridi had ordered Islamabad police to take legal action against the woman.
On October 20, Assistant Sub-Inspector Police Tahir Farooq had registered the FIR in the Secretariat Police Station against the woman after she threatened police personnel and hurled life threats when he tried to stop her from entering with a vehicle without a number plate.