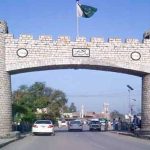 MARDAN: Police on Saturday arrested another student in connection with the brutal lynching of Abdul Wali Khan University (AWKU) student, Mashal Khan.
According to police, Amir, son of Ameer Muhammad, was arrested from Tangi, Charsadda district while the house of another man, named Uzair and identified from the video, was raided. Uzair had already fled his house, but his father was asked to tell his son to hand himself over to police, they added.
On Tuesday, a special investigation team probing the murder arrested two more suspects. Tariq Khan, a student of AWKU's mass communication department – same as Mashal – and Ishaq Khan another university student were arrested from Sardheri in Charsadda, which shares a border with Mardan.
Journalism student, Mashal Khan, was lynched and shot on campus by fellow students and university staff members after accusations of blasphemy were levelled against him.