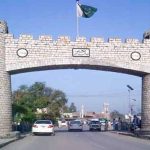 KARACHI: Police on Monday baton charged and used tear gas as a large number of Majlis-e-Wahdat-ul-Muslimeen (MWM) activists took to the streets of Karachi's Malir-15 to demand the release of their leaders.
The leaders Allama Mirza Yousaf Hussain and Taj Hanfi were detained in the last two days over accusations of provocative speech.
The hearing of the case was held today after which Allama Mirza Yousaf Hussain was sent to jail.
Atleast nine suspects were arrested after the protest intensified.
In a rage of fit, the protesters hurled stones on police and Rangers personnel, wounding one official.
They also tried to shut the railway track and halted the train operation.
Reacting to the situation, police resorted to aerial firing and intense shelling to quell the protesters.
The party activists dispersed into the nearby streets and are being followed by police for detention.
The process of negotiation also failed among both the parties as the protesters were not settling on anything less than the release of their leaders.
The protest has led to a severe traffic jam on the National Highway as long queues of vehicles were witnessed.
As the situation worsened, people stuck in traffic left the place after locking their vehicles.
Security forces' crackdown in the provincial capital has strengthened in the past couple of days.
Former Pakistan Peoples Party (PPP) Senator Faisal Raza Abidi was arrested during an early morning raid at his Karachi residence on Saturday in connection with the killing of two men who belonged to the Tableeghi Jamaat in Patel Para area.
On the other hand, Counter-Terrorism Department on Monday has detained five terrorists involved in the killings of six people.
The terrorists belonged to banned outfit and killed two members of Tableeghi Jamaat in Patel Para area, three workers of Ahle Sunnat Wal Jamaat (ASWJ) at Shafique Mor and an Imam in Nazimabad three days back.