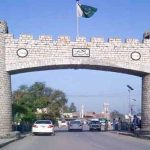 PESHAWAR: Police on Saturday defused an improvised explosive device (IED) planted near a madrassa in Peshawar.
In another attempt to target security forces in the city this year, unidentified militants planted the IED, weighing up to one kilogramme, underneath a pile of garbage by the wall of the madrassa, said DSP Tahir Dawar.
The Bomb Disposal Unit (BDU) was called in, which inspected the device and defused it successfully.
According to details, around 159 students study in the madrassa, which apparently was the target of the IED.
In July this year, security forces had defused another IED planted by the roadside at Aman Chowk, Dalazak Road within the jurisdiction of Paharipura police station.
The target of the IED, a police official had said, was a police mobile, but luckily, it was spotted in time and defused.