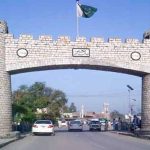 ISLAMABAD: Police contingents have been deployed at the residence of Pakistan Tehreek-e-Insaf (PTI) chairman Imran Khan after disgruntled party workers refused to disperse despite Imran Khan's appeal.
PTI activists are protesting in front of Khan's residence in Bani Gala over the issue of awarding party tickets to controversial candidates to contest the forthcoming general elections.
On Monday, the PTI chairman met with the protesting workers and clarified that he won't change his decision at the behest of someone.
Imran told the workers to file review petitions stating their objections against controversial candidates and he would make merit-based decisions in light of the petitions.
Meanwhile, the PTI Chief denied the reports of having name of Zulfi Bukhari removed from the Exit Control List (ECL) through a telephone call to the caretaker interior minister Azam Khan.
He also challenged his opponents to prove that he called the minister for removing Bukhari's name from ECL.
Zulfi Bukhari is a close friend of Imran Khan and his name has been placed on the ECL for he was mentioned in Panama Leaks; however, he left for Saudi Arabia along with Imran Khan to perform Umrah as the interior ministry, in a notification, had allowed Bukhari to travel abroad one time for six days.