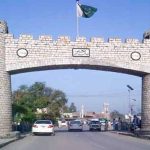 PESHAWAR: All the leaves of police personnel have been cancelled on the pretext of security reasons in Khyber Pakhtunkhwa, read a notification issued Friday.
According to the notification, application of leaves submitted by policemen would not be entertained during the upcoming 15 days. The notification added that applications would be considered only in cases of dire emergency.
Security has been tightened across Khyber Pakhtunkhwa in general and Peshawar in particular following a suicide blast in Hayatabad area of Peshawar on Wednesday killing at least two persons and leaving more than a dozen injured.