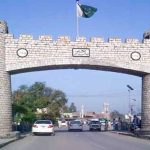 PESHAWAR: Police on Monday arrested 135 people for violating Section 144 in different areas of Peshawar as lockdown to contain novel coronavirus continues.
According to details, 135 persons were arrested from Peshawar's Charsadda Road, GT Road, Saddar and Hayatabad areas.
Peshawar DC urged all citizens to follow the instructions given by the provincial government, stay at home and do not come outside unnecessarily.
Meanwhile, dozens of people were detained in Karachi. Ibrahim Hyderi police, while ignoring the precautions concerning social distancing, locked down all the detainees together.