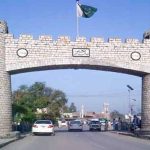 RAWALPINDI: Police have arrested seven outlaws including two for running illegal LPG agencies besides recovering 2080 grams charras, a 30 bore pistol with 45 rounds, a 12 bore gun and other items from their possession.
According to a police spokesman, Race Course police arrested Ashir for having 220 grams charras. Taxila police rounded up Mujahid and recovered 1300 grams charras while Sultan was sent behind the bars on recovery of 560 grams charras.
R.A.Bazar police netted two accused namely Numan for carrying a 30 bore pistol with 20 rounds and Zahid with 25 rounds.
Chontra police also recovered a 12 bore gun from the possession of Riaz.
Meanwhile, Saddar Wah police conducted raids at illegal LPG agencies and nabbed Abdul Rehman and Bajwa.